Will your Video Security System be ready and working when you need it?
It will with HPI Security on your staff!
When you subscribe to HPI's Video Security System Management & DVR Health Monitoring Services*, we will keep a close eye on your video security system's performance and report any failures to you for repair authorization, or, if you are and ESP (Extended Service Plan) subscriber, immediately schedule the failure for urgent service repairs.
Your video management services consists of:
Video take-off services: HPI will search time/date for video records of events that you identify, perform video downloads of the incidents and make them available to you or police investigators in a format that they can use for investigation and evidence. We'll also testify as to the validity and chain of evidence should it come to that.
HPI Daily Monitoring: Critical components of your system are monitored in real time and are flagged and reported directly to our service department by text message or email to perform maintenance as it is needed to make sure your system is running at full capacity at all times. Hard-drive health, recording errors, system operation, video Loss, power loss, and failed to check-in issues are all monitored 24/7/365.
Day/Night Image Reports:  HPI's Video Security System Management Services Reporting Software, ReportStar, automatically sends us (and you too if desired) a weekly summary report (see below) on the system's video storage performance, and it also includes Day & Night still images from each of your cameras captured each week along with an older reference image from when installed to compare. This provides us a unique up-to-date visual confirmation of camera placement, out of focus, dirty or blocked images. These reports can be scheduled to be daily, weekly or monthly for  the operation of your systems.  This can't be duplicated unless you have a guard or staff constantly using your system.
Annual on-site check-up: HPI will send a technician on-site for a system check-up, camera cleaning, camera re-focusing, and  replacement of back-up UPS batteries.
Priority service: you will get a call the next business day offering service repairs at your earliest convenience. If you add the Extended Service Plan (ESP) when your system is installed,  all parts and labor during normal business hours are covered. If we see a problem though our System Management Services,  HPI's service manager can just schedule the repair without you needing to approve any additional payment.
See SAMPLE Summary Report (click image below):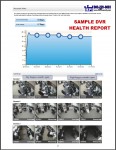 * Requires ReportStar enabled DVR/NVR with HPI's Video Security System Management Services Reporting Software built-in